I don't know about you guys, but sometimes im a bit tired of the normal announcer in LoL. So i tried to find a way to change the announcer's voice into something else and I found this beautiful program : Demonic-Announcer V2.
It is very easy to use and the results are very good, the only sad thing about it is that you can't change the voice for whatever you want, but other than that, it's an awesome little program.
Available Announcers:
-Unreal Tournament
-UT3
-Killer Instinct
-Mortal Kombat
-Halo
-Halo 4
-Phreak Troll ("Tons of Damage")
-Draaaaven ("Welcome to the League of Draven")
Here's how to change the announcer's voice in LoL.
First Step
Go on the official download page and click on Download :
http://demonicannouncer.net/download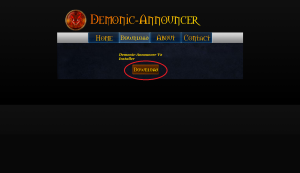 Step 2
When the download is complete, you will have to select a folder to install Demonic-Announcer. When it's done installing, you only have to open the program. It will have to download some updates the first time you open it.
Step 3
When the updates are installed, it will ask you if you want to sign up as a tester for the V3, I said no but it's your choice
Then, you follow these images :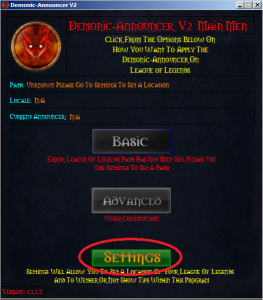 Then select your LoL launcher :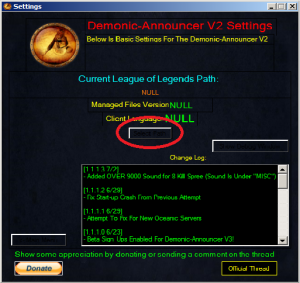 When it's done, click on the small black box on bottom left and it will take you back, but this time you can select the basic button :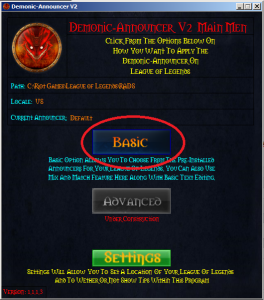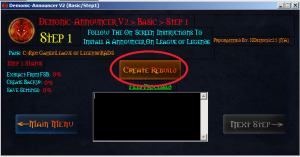 Create Rebuild will run a backup for you, so your LoL file is safe. then wait, the backup can take a moment. When it's completed, click on Next Step.
Now, you have to select all the sounds ( voices ) you want. You can mix them. The left red circle shows the different announcers, if you click on one of them, a list of sounds will appear in the centre red circle. You can select a single sound and click on (Add) to add it or you can click on (Add All) to add all the sounds from this announcer. You can also hear a preview of each sound. When you are done selecting your sounds, click on the (Use Sounds) button, here in the blue circle.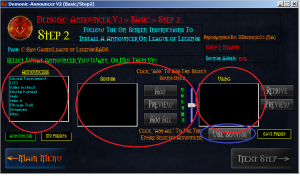 When you added the sounds you want, click on (Next Step).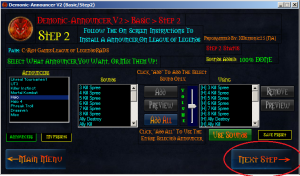 And finally, click on (Compile & Install).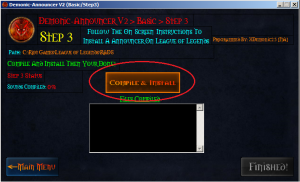 When it's done, click on (Finished!) and here you go ! You have your new announcer's voices ! It will create a new Demonic-Announcer folder, don't be surprised.
Last thing
When there's a LoL update, you will have to change your voices again, but the backup will not be as long as the first time so it's not very long. Have fun using your new voices !
Thanks for reading,
SteakOfJustice