The other day, I was playing an ARAM (they are so much fun!) and decided to change my key bindings. I had made a few modifications to them the game before and wasn't happy with them: I wanted the defaults back. So anyway, I go into the League of Legends options menu and reset my key bindings, then go back to the game.
Seeing that my team is getting pulverized by the enemy fiddle, I quickly right-click to go help them… But my character (Lux) refuses to move. I try again, and still nothing. I then proceed to frantically smash my right mouse button, yet to no avail.
My team then starts to rage at me, obviously:
-Lux afk?
-Lux, come here!
-OMG Lux noob.
-/all report Lux plz.
Since the chat still works, I try to explain the situation: I'm not afk, I just CAN'T MOVE. Unfortunately, they don't listen and continue raging, while I sit there, powerless as our Nexus gets destroyed.
After we lost that game, I create a custom game vs bots to see if the problem persists…. and it does. I try disconnecting and reconnecting, restarting my computer, resetting my options to the defaults, yet nothing works.
Finally, in a stroke of genius, my friend (who is a computer nerd just like me), proposes that I delete my LoL configuration files. His reasoning behind this is that, since my problem started after I tried to change my key bindings; it's probably that the configuration files got corrupt.
How I fixed it:
Taking my friend's advice, I opened up windows explorer and navigated to C:\Riot Games\League of Legends and deleted the Config folder. Once this is done, I fire up League of Legends and… surprise surprise, it works now!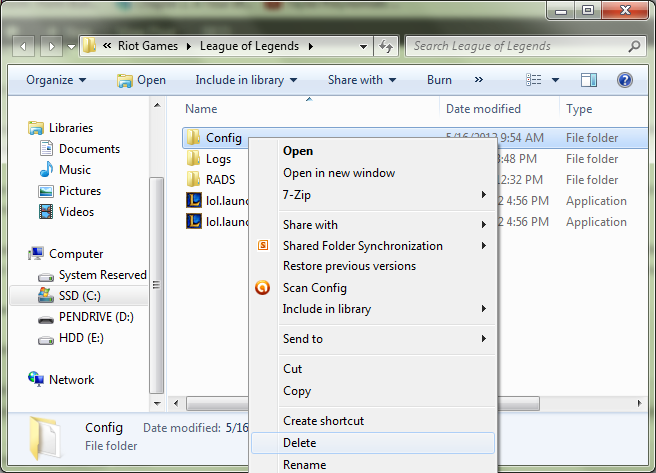 That's it for today, I hope this helps out the people out there who can't move in LoL!
Thanks for reading,
Icosebyte